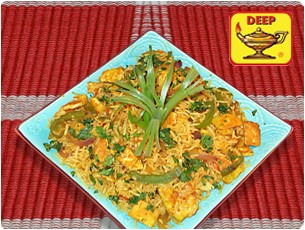 Omlette Biryani
30-35 Min
8
Description:
Omelet Biryani.
Preparation:
1) Cook Rice with adding Salt & 1 ½ tsp oil.
2) Make sure each Grain is separate.
3) Make the Omelet as per your taste, cut them into pieces.
4) Cut Onion & Capsicum into Slices.
5) Finely Chop Tomato.
6) Grind Garlic & Green Chili. Finely chop the spring onions.
7) Finely chop Cilantro.
Cooking:
1) Heat Oil & Butter in a pan.
2) Add Garlic Paste, fry for 1min.
3) Add Onion & Capsicum, fry for 1-2 Min.
4) Add Tomatoes, Salt, Biryani Paste, Red Chilli Powder, Turmeric Powder & Mix well.
5) Add Cook Rice, Omelet Pieces & mix gently.
6) Add Chopped cilantro & remove from flame.
Total cooking time:
30-35 Min
Garnishing:
Serve hot. Garnish chopped Spring Onions.
| Ingredients | Quantity | Add to Cart |
| --- | --- | --- |
| | | |
| Egg | 3 Piece | |
| Biryani Paste | 3 Teaspoon | |
| Chopped Onion | 2.47 Oz | |
| Oil | 2 Tablespoon | |
| Onion Slices | 2 Piece | |
| Tomatoes | 1.94 Oz | |
| Capsicum | 1.23 Oz | |
| Butter | 1 Tablespoon | |
| Red Chilli Powder | 1 Teaspoon | |
| Basmati Rice | 0.5 Cup | |
| Garlic | 0.35 Oz | |
| Turmeric Powder | 0.25 Teaspoon | |
| Salt | As Required to Taste | |
| Spring Onion | As Per Required | |
| | | |