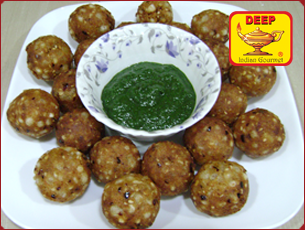 Upvas Sago Balls
40 mins.
5
Description:
Deep Fried Hot & Sweet Sabudana Potato Balls
Preparation:
1) Wash Sabudana in running water and Soak in water for 2hrs.
2) Remove in strainer to drain excess water.
3) Boil Potatoes and mash properly.
4) Mix well Mint Chutney, Coriander Chutney & Powder Sugar and make green chutney.
Cooking:
1) In a bowl, place mash Potatoes, Rajgaro Flour, Red Chilli Crushed, Black Pepper Powder, Black Salt, Red Chilli Powder, Sesame Seeds, Coconut Powder, Lemon Juice, Sugar and mix well.
2) Add Sabudana and knead into dough & Keep aside for 15 mins.
3) Heat Oil on low flame for deep frying.
4) Apply Oil on both the palms and make small balls of sabudana dough.
5) Deep fry all balls till golden and remove on an absorbent paper.
Total cooking time:
40 mins.
Garnishing:
Serve hot Sago Balls with prepared green chutney.
| Ingredients | Quantity | Add to Cart |
| --- | --- | --- |
| | | |
| Baby Potatoes ( Dum Aloo ) | 9 Piece | |
| Sugar | 3 Tablespoon | |
| Lemon Juice | 3 Tablespoon | |
| Coriander Chutney | 2 Tablespoon | |
| Sesame Seeds | 2 Tablespoon | |
| Mint Chutney | 2 Tablespoon | |
| Coconut Powder | 2 Tablespoon | |
| Red Chilli Powder | 2 Teaspoon | |
| Powder Sugar | 2 Teaspoon | |
| Red Chilli Crushed | 1.5 Tablespoon | |
| Tapioca Pearls ( Sabudana ) | 1 Cup | |
| Amaranth Flour ( Rajgaro Flour ) | 1 Cup | |
| Black Pepper Powder | 0.5 Teaspoon | |
| Black Salt | 0.25 Teaspoon | |
| Rock Salt ( Sendhav Salt ) | As Required to Taste | |
| | | |