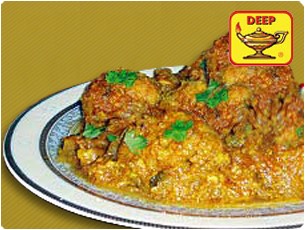 Suran Ke Kofte
45 Mins.
3
Description:
Suran Kofta Curry
Preparation:
1) Wash and boil Suran till tender.
2) Drain excess water and let it cool.
3) Finely chop Onion, Tomato and Green Chilies.
Cooking:
1) Mash Suran, add Besan, Red chilli Powder (1/2tspn), Salt, chopped Green chilli (1pc), Anardana and hot Oil(2tblspn).
2) Mix well and make dough.
3) Divide into equal portions and make balls(Koftas).
4) Heat Oil for deep fry in a wok.
5) Deep fry kofta till golden brown and Keep aside.
6) Heat 5 tblsp Oil in Pressure cooker.
7) Add Chopped Onions and stir till brown.
8) Add Red Chilli Powder(1tspn) and immediately add tomatoes, 1/4 cup Water and Pressure cook for 5 mins.
9) Blend to make gravy, add Salt, Green chilli(1pc), Turmeric Powder and stir till Oil leaves the gravy.
10) Add 2 cups water and bring to boil.
11) Add Kofta and simmer for 5 minutes.
12) Add Garam Masala Powder & Coriander Leaves and mix gently.
Total cooking time:
45 Mins.
Garnishing:
Garnish fresh Coriander Leaves. Serve hot with Paratha.
| Ingredients | Quantity | Add to Cart |
| --- | --- | --- |
| | | |
| Oil | 7 Tablespoon | |
| Tomatoes | 5.29 Oz | |
| Onion | 5.29 Oz | |
| Chopped Cilantro | 4 Tablespoon | |
| Water | 2.25 Cup | |
| Green Chilies | 2 Piece | |
| Yam ( Suran ) | 12.35 Oz | |
| Red Chilli Powder | 1.5 Teaspoon | |
| Garam Masala Powder | 1 Teaspoon | |
| Dry Pomegranate Seeds ( Anardana ) | 0.5 Teaspoon | |
| Turmeric Powder | 0.5 Teaspoon | |
| Chickpeas Flour ( Besan ) | 0.25 Cup | |
| Salt | As Required to Taste | |
| Oil for deep frying | As Per Required | |
| | | |