Delicious Ganesh Chaturthi Recipes for Family Gatherings
Ganesh Chaturthi or Vinayaka Chaturthi is one of the most auspicious festivals for Hindus living across the world. During the festival, the welcoming of the Lord Ganesha is marked in millions of houses and offices around the globe. It is a ritual that Hindus follow from years by inviting the Lord to stay with their family and enjoy good food and service. If you are planning to bring the great Ganpati in your house in the USA and are looking for delicious Ganesh Chaturthi recipes-you are at the right place. Moreover, you can also buy Indian groceries online and Prasadam recipe ingredients online with GroceryBabu.
Preparing Lord Ganesha's Favourite Delicacies
Depending upon the rituals, every family brings the Lord at home or office for different days. If you have brought the little Ganesha at your home for 3, 5, 7 or 10 days- we have got some fantastic and delicious Ganesh Chaturthi recipes that are favourite of the Lord. So, shall we begin?
Delicious Ganesh Chaturthi Recipes
As we prepare something for the Lord, we always prepare sweet delicacies. So, our list has amazing sweet dishes for the Lord that can be easily prepared at home once you buy Indian groceries online.
1. Modak Recipe
Everyone knows that the Lord Ganesha loves Modak the most out of all food preparations. Though preparing Modak at home is a bit difficult task, but we have made it easy for you by bringing you the Indian grocery store online in the USA that has most of the readymade recipe ingredients.
What is Modak?
Modak is one of the most popular Maharashtrian recipes that is prepared from rice flour dough with the filling of coconut jaggery. The filling of the same can be enriched by adding fresh cardamom powder after grinding cardamom in the mixture. You also buy cardamom powder online with GroceryBabu. If you are concerned about moulding modak then it can be mould either with hands or with readymade modak moulds available in the market.
Main Ingredients required for preparing Modak
Ghee
Shredded coconut
Rice Flour
Jaggery
Cardamom Powder
GroceryBabu Indian grocery store online in the USA has all these ingredients ready for home delivery. Login to our store to buy Indian grocery online in the USA.
How to Cook Modak in Maharashtrian Style?
Modak preparation takes good time for the entire preparation. If you have already bought Modak moulds, it becomes easier for you to cook one. If you have not, you can plan to buy it online or during your next visit to India. Well, you can watch the entire video for Modak Recipe here.
2. Puran Poli Recipe
Puran Poli is a popular Indian recipe that is prepared by mixing a lot of ingredients including flour, lentils, jaggery and cardamoms. We have got all the necessary ingredients at GroceryBabu, Indian grocery online store in NJ with access to home delivery service.
How to prepare Puran Poli at home?
All sweet delicacies require quality time for preparation. For preparing consistent and soft Puran Poli at home, you need to make sure about the pre-preparations, including the gram flour dough filled with jaggery.
3. Besan Ladoo Recipe
Ladoos always delight everyone, including Ganpati Bappa. We know how important it is to prepare the perfect laddoos by getting all the necessary ingredients. These Indian recipes are prepared easily in India because of the instant availability of all the recipe ingredients. You can also make the same type of besan laddoos for your Bappa in the USA as GroceryBabu delivers all the Indian grocery delivery online in the USA.
The below recipe preparation is inspired from 'Cook With Manali'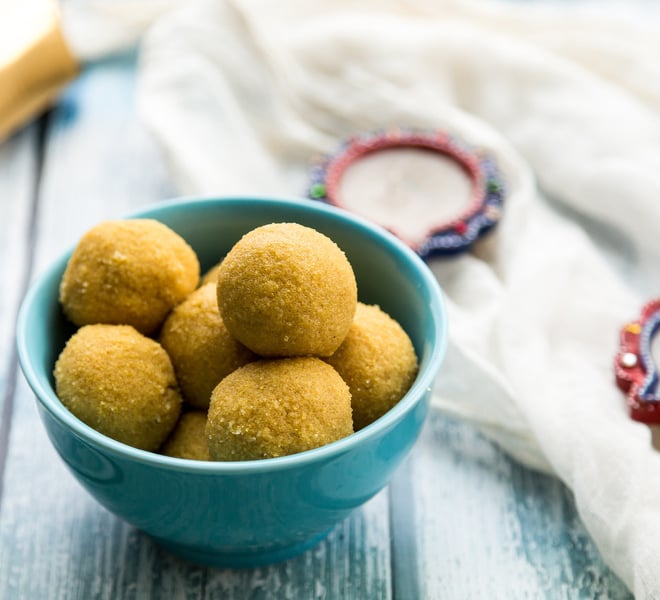 1- add the ghee and let it melt on low heat in a heavy bottom pan.
2- Once the ghee melts, add the sifted gram flour to the pan. Heat should be consistently low during the stir.
3- Mix the gram flour and the ghee. When you do so, it will start forming lumps.
4- Don't worry about the lumps and keep stirring; it will start to loosen up a bit.
5 & 6- Keep stirring continuously on low heat. Besan will continue to loosen up, and after around 15 minutes, it will turn into a smooth paste-like consistency.
7- Roast the gram flour for around 25 minutes on low heat until it had a beautiful golden colour. At this point, you will get a rich aroma.
8- Remove pan from heat. And later, transfer it to another vessel for cooling it down.
9- Later, when the besan is cooled down, you can add a few nuts to enrich the taste.
10- Mix the cooked gram flour with nuts and required sugar powder to get a smooth besan dough.
11- Start preparing round shape balls from the prepared dough.
Wrapping Up
During the festival days, you might feel nostalgic and miss your favourite Ganesh Chaturthi recipes. We at GroceryBabuhelp Indians across the USA with our Indian Grocery Store Online. You can visit our store and buy all your favourite Indian spices and cooking ingredients online.
Share this post